Last Updated: 12/15/17
Our Team — Faces of the DTC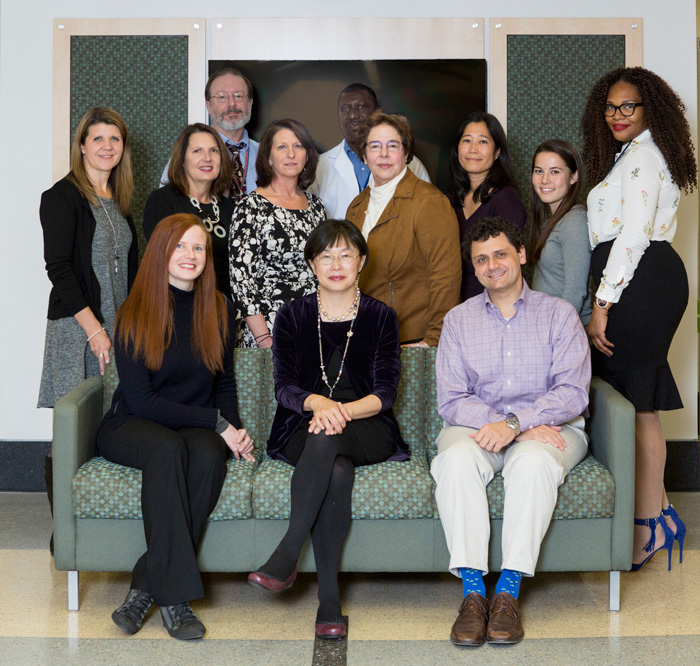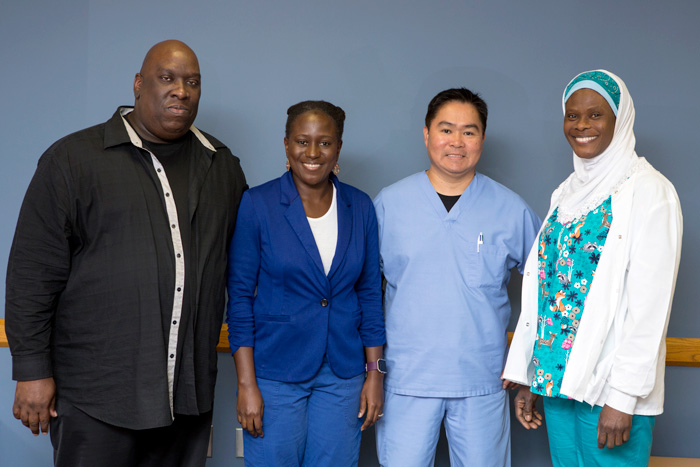 Primary Investigators
James H. Doroshow, MD, is the Deputy Director for Clinical and Translational Research of the National Cancer Institute and the Director of NCI's Division of Cancer Treatment and Diagnosis. He is the author of over 400 full-length publications in the areas of molecular pharmacology, the role of oxidant stress in tumor cell signal transduction, and novel therapeutic approaches to solid tumors; he is also the Associate Editor for Oncology of the 25th Edition of the Cecil Textbook of Medicine. Following an Internal Medicine residency at the Massachusetts General Hospital, he completed a fellowship in Medical Oncology at the Medicine and Clinical Pharmacology Branches of the National Cancer Institute, NIH.
Alice Chen, MD, has wide-ranging experience in medical oncology and hematology over a 25+ year career. In 2015, she became the Head of the Early Clinical Trials Development Program and the Developmental Therapeutics Clinic. Her clinical experience of almost three decades includes over 15+ years as a clinical researcher participating both as primary and associate investigator of many early phase trials, including the first ever phase "0" trial performed under the FDA's Exploratory IND as well as "first in man" phase 1 trials. During her time in private practice in Corpus Christi, TX, she was voted Super Doctor by Texas Magazine in 2004 and 2005. She is currently the primary investigator for the Molecular Profiling-based Assignment of Cancer Therapy (MPACT) and co-primary investigator for the nationwide Molecular Analysis for Therapy Choice (MATCH) trial, both part of the NCI Precision Medicine Initiative. She has co-authored over 60 peer-reviewed publications. She is the recipient of 8 NIH Awards of Merit for her contribution to international relationships, adverse event reporting, CTCAE, PRO-CTCAE, and NCI-MATCH.
Geraldine O'Sullivan Coyne, MD, PhD is a Staff Clinician in the Early Clinical Trials Development Program and a Faculty member since joining DTC in 2016. She obtained exceptional clinical training at several excellent programs and institutions prior to joining the team. She was awarded her PhD in Molecular Medicine from University College Cork, Ireland, in 2010, and she also holds a diploma in Health Care Management from the Smurfit Graduate Business School at University College Dublin. She is a member of the NCI Exceptional Responder Initiative, and an associate investigator for NCI-MPACT. She has authored and co-authored various translational papers and clinical reviews, and leads a number of phase I/first-in-human clinical trials in the DTC. At DTC she continues to pursue her interest in developing novel cancer therapies using pharmacokinetic and pharmacodynamic tools to impulse drug development.
Naoko Takebe, MD, PhD, joined the Developmental Therapeutics Clinic as an Associate Chief, Translational Science Section of the Early Clinical Trials Development Program in June 2017. Prior to her current position, she was a Senior Investigator at the Cancer Therapy Evaluation Program (CTEP) for nearly 10 years. At CTEP, she implemented early clinical trials under CRADA with pharmaceutical and bio-venture companies. Prior to joining NCI, she was a faculty member in the Department of Medicine and Department of Pathology at the University of Maryland School of Medicine, Blood and Stem Cell Transplant Program in the Division of Hematology/Oncology. As a physician scientist, she conducted clinical trials in the field of hematologic malignancies and stem cell transplantation. She also worked as a laboratory principal investigator (PI) investigating experimental therapeutics for multiple myeloma and using umbilical cord blood stem cell ex vivo expansion for allo-BMT. Dr. Takebe received her M.D. and Ph.D. degrees from Hirosaki University School of Medicine, Japan, and completed her medical Hematology/Oncology Fellowship at Memorial Sloan-Kettering Cancer Center in 1997, and a Postdoctoral Research Fellowship at the Memorial Sloan-Kettering Institute in 1999 focusing on gene therapy and molecular pharmacology and therapeutics. Currently, she is also a translational science PI for the NCI Exceptional Responder Initiative, and a NCI co-investigator for NCI-MATCH and Pediatric MATCH. She serves as an Associate Editor for "Current Problems in Cancer" from Elsevier. She also is a member of the NCI Provocative Question team and Cancer Moonshot Initiatives, Human Tumor Atlas. She serves as an oversea member for the Immunotherapy Guidance Working Group in Japan. She is board certified in Hematology and Medical Oncology.
Associate Investigators
Elad Sharon, MD, MPH, joined the NCI Cancer Therapy Evaluation Program (CTEP) in December 2011 as a Senior Investigator in the Investigational Drug Branch, where he works with academia and industry to develop promising cancer therapies. His portfolio includes antibody-drug conjugates, immune checkpoint inhibitors and other agents. Dr. Sharon co-directs immunotherapy trials at CTEP and serves as an attending physician in NCI's Developmental Therapeutics Clinic. Dr. Sharon is on program committees for several major oncology meetings. Dr. Sharon received his M.D. from Baylor College of Medicine in Houston, Texas in 2003. He completed his internal medicine residency at Emory University in 2006 and his Hematology/Oncology Fellowship at the NIH in 2011, while obtaining a Master of Public Health degree at the Harvard University in 2009. His fellowship research focused on clinical trials in mesothelioma. Dr. Sharon works on patterns of care projects with NCI's Healthcare Delivery Research Program using SEER data and with NCI's Surveillance Research Program to evaluate emerging practice patterns and the economics of cancer care. He previously worked as a guest at the Brookings Institution. He is as an associate editor of JNCI Cancer Spectrum and on the editorial board of JCO Clinical Cancer Informatics.
Howard Streicher, MD, received his Applied Baccalaureate degree in physics from Cornell University and his medical degree from New York University. He completed an internship and residency training in Internal Medicine at the New York University-Bellevue Medical Center and New York Veterans Hospital. He was on active duty with the United States Naval Reserve and a faculty member at the John Burns School of Medicine . He completed training in immunology at the University of Colorado and the Metabolism Branch of the National Cancer Institute before joining the Laboratory of Tumor Immunology National Cancer Institute. As a member of the Investigational Drug Branch of the Cancer Therapy Evaluation Program (CTEP) his portfolio centers on immunotherapeutic agents including vaccines, cytokines, and immune modulating agents for the treatment of cancer.
Richard Piekarz, MD, PhD, is a Medical Officer in the Investigational Therapeutics 3 Section of the Investigational Drug Branch of the Cancer Therapy Evaluation Program (CTEP). Dr. Piekarz is a graduate of the Albert Einstein College of Medicine, where he received a PhD in Molecular Pharmacology in addition to an MD. He did his internship and residency in Internal Medicine at the University Hospitals of Cleveland. Dr. Piekarz served as a Medical Oncology Fellow and then Senior Fellow at the NCI-Navy Medical Oncology program where he also served as a Staff Clinician prior to joining IDB. He is also a Preceptor at the Uniformed Services University of the Health Sciences (USUHS) Department of Pharmacology. Dr. Piekarz background includes the development of the HDAC inhibitors. This included demonstration of their efficacy in patients with T-cell lymphoma, conduction of a thorough analysis of its cardiac effects, and laboratory work to define their molecular effects and potential mechanisms of resistance.
Nurse Practitioners
Lamin Juwara is a Nurse Practioner on the Developmental Therapeutics Team. Lamin received his Doctor of Nursing Practice degree at George Washington University and his Nurse Practitioner certification at the University of Maryland. Lamin has been at NIH since 2001.
Mary Quinn joined NCI's adult inpatient medical oncology unit after graduating from the University of Maryland School of Nursing in 1979. Over the next 23 years, she was both an inpatient and outpatient nurse, as well as a research nurse in the GI phase 1 program. From 2002-2005, she was a regulatory compliance nurse and adverse events manager (AdEERS, reporting guidelines, CAEPERs) for CTEP. While pursuing a Nurse Practitioner degree at the University of Maryland in Baltimore in 2005, Ms. Quinn worked at the University of Maryland Cancer Center, helping to set up the phase 1 program in medical oncology, and serving as the coordinator of the Data Safety Monitoring Committee. After completion of the Nurse Practitioner program, Ms. Quinn worked in the University of Maryland's Cancer Center with the breast team and on some phase 1 studies. Ms. Quinn joined the Developmental Therapeutics Clinic in September 2016 after working in the Walter Reed Medical Center in the hematology/oncology outpatient clinic from 2010-2016.
Research Nurses
Ashley Bruns, RN, MSN, received her Bachelor's and Master's degree in nursing from the University of South Alabama in Mobile AL. Ashley has been a nurse since 2004 and an oncology research nurse since 2011.
Nancy Moore RN, MSN, is a Clinical Research Nurse on the Developmental Therapeutics Team. She received her Bachelor's degree from Villanova University, PA and her graduate degree from Adelphi University in Long Island NY. She has been practicing in the area of clinical research trials for 20+ years.
Rebecca Trupp has over 25 years of nursing experience. She has spent the bulk of her career in women's health care, half of which was dedicated to the care of women with breast cancer. Rebecca obtained her associates degree in nursing from Montgomery College and her bachelor's degree in nursing from the University of Texas. She is a native Washingtonian and serves as DTC's regulatory nurse working behind the scenes to assure safety and compliance.
Jennifer Zlott, RN, OCN is an oncology certified nurse. Her experience prior to joining the Developmental Therapeutics team includes working with intermediate cardiac care patients, as well as hematopoietic stem cell transplant and hematology/oncology patients.
Social Workers
Marie "Elaine" De Benedetto has been our team social worker for over six years. Ms. De Benedetto has worked in the field of oncology social work at the NIH since March of 2000. She serves on the National Cancer Institute's Division of Cancer Treatment and Diagnosis Developmental Therapeutics Clinic General Safety Monitoring Committee. Ms. De Benedetto is bilingual in English and Spanish. She is licensed in the State of Maryland as a Clinical-Certified Social Worker. She received her Bachelors of Science Degree in Social Work from George Mason University and her Masters of Social Work Degree from The Catholic University of America in Washington, D.C. Ms. De Benedetto conducts psychosocial screenings and assessments, hospice referrals, resource referrals and discharge planning.
Referral Coordinators
Debbie Childs is a Clinical Research Coordinator with the Early Phase Developmental Therapeutic Team at NCI. Debbie graduated from the Graduate School with honors, majoring in Administrative Procedures Management. She is a Certified Nursing Assistant and a Certified Dental Assistant. Debbie has a total of 34 years of combined service in the Federal and District Government providing patient care. Sixteen of those years were here, at NIH in the Interventional Radiology Department as the Coordinator. She has received numerous awards for her service in Customer Service.
PK/PD Specimen Laboratory Supervisor
Corey Evans is the PK/PD Specimen laboratory supervisor for DTC. Corey worked on the laboratory team in the Research Nexus, a GCRC lab supporting clinical trials and other basic research at the Medical University of South Carolina (MUSC). Prior to MUSC, he completed graduate studies at Virginia Commonwealth University, where he worked in neuroscience with a concentration in traumatic brain injury. He is originally from South Carolina and completed his undergraduate coursework at Clemson University.
Sharon Allison is a Research Technician at the PK/PD support laboratory for DTC. She has worked in Cytopathology labs before coming to NIH. Sharon is fluent in English and Spanish, and is certified in phlebotomy. Sharon completed her undergraduate studies in Health Science and Laboratory Management at the University of Maryland.