Last Updated: 05/08/17
Our Team — Faces of the DTC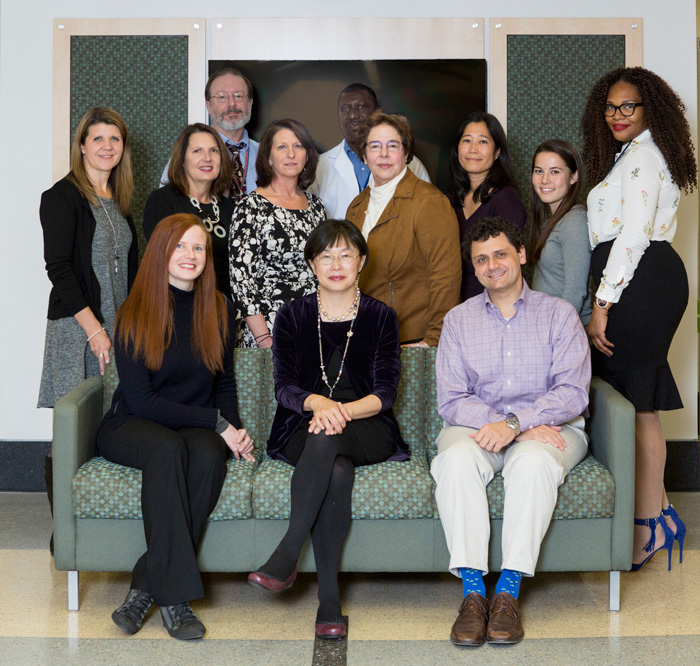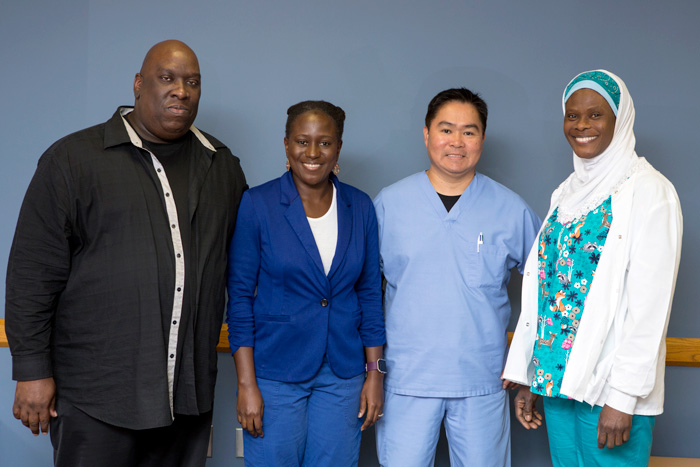 Primary Investigators
James H. Doroshow, MD, is the Deputy Director for Clinical and Translational Research of the National Cancer Institute and the Director of NCI's Division of Cancer Treatment and Diagnosis. He is the author of over 400 full-length publications in the areas of molecular pharmacology, the role of oxidant stress in tumor cell signal transduction, and novel therapeutic approaches to solid tumors; he is also the Associate Editor for Oncology of the 25th Edition of the Cecil Textbook of Medicine. Following an Internal Medicine residency at the Massachusetts General Hospital, he completed a fellowship in Medical Oncology at the Medicine and Clinical Pharmacology Branches of the National Cancer Institute, NIH.
Alice Chen, MD, has wide-ranging experience in medical oncology and hematology over a 25+ year career. In 2014, she became the Acting Head of the Early Clinical Trials Development Program. Her clinical experience of almost three decades includes over 15+ years as a clinical researcher participating both as primary and associate investigator of many early phase trials, including the first ever phase "0" trial performed under the FDA's Exploratory IND as well as "first in man" phase 1 trials. During her time in private practice in Corpus Christi, TX, she was voted Super Doctor by Texas Magazine in 2004 and 2005. She is currently the primary investigator for the Molecular Profiling-based Assignment of Cancer Therapy (MPACT) and co-primary investigator for the nationwide Molecular Analysis for Therapy Choice (MATCH) trial, both part of the NCI Precision Medicine Initiative. She has co-authored over 60 peer-reviewed publications. She is the recipient of 6 NIH Awards of Merit for her contribution to international relationships, adverse event reporting, CTCAE, PRO-CTCAE, and NCI-MATCH.
Geraldine O'Sullivan Coyne, MD, PhD is a clinical fellow in the Early Phase Developmental Therapeutics Team. She obtained exceptional clinical training at several excellent programs and institutions prior to joining the team. She was awarded her PhD in Molecular Medicine from University College Cork, Ireland, in 2010, and is a winner of the Prof. Denis J. O'Sullivan medal (Cork University Hospital, Ireland, 2006). Her PhD work was short listed for the St. Luke's Young Investigator of the Year (2008), and she also holds a diploma in Health Care Management from the Smurfit Graduate Business School at University College Dublin. She has authored and co-authored various translational papers and clinical reviews, and continues to pursue her interest in early phase clinical trials and drug development working in the DTC.
Naoko Takebe, MD, PhD, joined the Cancer Therapy Evaluation Program (CTEP) in September 2007 as a Senior Investigator at the Investigational Drug Branch, where she works with academic investigators and industry collaborators to carry out the clinical development of promising new cancer therapies. Her current portfolio includes agents causing programmed cell death, cancer stem cell targeting agents, and src inhibitors. Dr. Takebe received her MD and PhD degrees from Hirosaki University, Japan in 1988 and 2002, respectively. She completed her medical Hematology/Oncology Fellowship at Memorial Sloan-Kettering Cancer Center in 1997, and a Postdoctoral Research Fellowship at the Memorial Sloan-Kettering Institute in 1999. In 1999, she joined the Blood and Stem Cell Transplant Program in the Department of Hematology/Oncology, Greenebaum Cancer Center, University of Maryland. There, she conducted clinical trials in the area of multiple myeloma and leukemia involving autologous and allogeneic transplants. Her laboratory research focused on experimental therapeutics, developing novel animal models for leukemia, and hematopoietic stem cell ex vivo expansion using umbilical cord blood stem cells. Dr. Takebe has served as a reviewer for journals such as Stem Cells, American Journal of Hematology, and Leukemia Research. She also served as a reviewer for the Committee of Stem Cell Research Grants. She is board certified in both hematology and oncology.
Associate Investigators
Barbara A. Conley, MD, is Associate Director of the Cancer Diagnosis Program (CDP) in the Division of Cancer Treatment and Diagnosis (DCTD), National Cancer Institute. She is also a member of the Division's Experimental Therapeutics Clinic. Her previous positions at the Institute included Chief of the CDP Diagnostics Research Branch, Senior Investigator in the Cancer Therapy and Evaluation Program Clinical Investigations Branch, and Head, Aerodigestive Diseases in the intramural Medicine Branch. Prior to her current appointment at DCTD, she was Chief of the Division of Hematology/Oncology at Michigan State University. She was a member of the faculty at the University of Maryland from 1987 to 1997. Dr. Conley holds an undergraduate degree from the University of Michigan and received her MD from Michigan State University. She has research interests in diagnostic markers, drug development, and cancers of the aerodigestive tract. She has published extensively in many journals, and serves on the editorial board of several professional publications.
Elad Sharon, MD, MPH, became Senior Investigator in the Investigational Drug Branch in 2011, where he works with academic investigators and industry collaborators to carry out the clinical development of promising new cancer therapies. Dr. Sharon received his MD from Baylor College of Medicine in Houston, Texas in 2003. He completed his internal medicine residency at Emory University in 2006 and continued to work at Emory as a hospitalist and Clinical Instructor prior to his fellowship. Dr. Sharon completed his Hematology/Oncology Fellowship at the NIH in 2011, and during his fellowship, he obtained a Master of Public Health degree at the Harvard School of Public Health in 2009. His research at the NCI focused on mesothelioma and clinical investigations of targeted therapies, including immunotoxins. Other projects included clinical and translational projects aimed at decreasing immunogenenic responses in the host immune system. Dr. Sharon also has a particular interest in clinical effectiveness and comparative health systems. He has served as a reviewer for journals, such as Mabs, Value in Health, and Clinical Cancer Research.
Howard Streicher, MD, received Applied Baccalaureate degree in physics from Cornell University and his medical degree from New York University. He completed an internship and residency training in Internal Medicine at the New York University-Bellevue Medical Center and New York Veterans Hospital. He was on active duty with the United States Naval Reserve and a faculty member at the John Burns School of Medicine . He completed training in immunology at the University of Colorado and the Metabolism Branch of the National Cancer Institute before joining the Laboratory of Tumor Immunology National Cancer Institute. As a member of the Investigational Drug Branch of the Cancer Therapy Evaluation Program (CTEP) his portfolio centers on immunotherapeutic agents including vaccines, cytokines, and immune modulating agents for the treatment of cancer.
Richard Piekarz, MD, PhD, is a Medical Officer in the Investigational Therapeutics 3 Section of the Investigational Drug Branch of the Cancer Therapy Evaluation Program (CTEP). Dr. Piekarz is a graduate of the Albert Einstein College of Medicine, where he received a PhD in Molecular Pharmacology in addition to an MD. He did his internship and residency in Internal Medicine at the University Hospitals of Cleveland. Dr. Piekarz served as a Medical Oncology Fellow and then Senior Fellow at the NCI-Navy Medical Oncology program where he also served as a Staff Clinician prior to joining IDB. He is also a Preceptor at the Uniformed Services University of the Health Sciences (USUHS) Department of Pharmacology. Dr. Piekarz background includes the development of the HDAC inhibitors. This included demonstration of their efficacy in patients with T-cell lymphoma, conduction of a thorough analysis of its cardiac effects, and laboratory work to define their molecular effects and potential mechanisms of resistance.
Nurse Practitioners
Yvonne Horneffer is a Nurse Practitioner, who has been with the Developmental Therapeutics Team (DTT) since 2006. Prior to joining NIH, Yvonne was an Assistant Patient Care Director of Dialysis and Renal/Telemetry Units at INOVA Fairfax Hospital, VA. She joined NIDDK in 2004 as an Associate Investigator in the Kidney/Pancreas Transplant Team. The early drug development (phase 0 and 1) concept attracted Yvonne to move to NCI where she manages the complex care of stage 4 cancer patients. In her spare time, every year, Yvonne leads a medical/ surgical mission overseas.
Lamin Juwara is a Nurse Practioner on the Developmental Therapeutics Team. Lamin received his Doctor of Nursing Practice degree at George Washington University and his Nurse Practitioner certification at the University of Maryland. Lamin has been at NIH since 2001. In his free time, Lamin enjoys playing and watching soccer.
Research Nurses
Jennifer Zlott, RN, OCN is an oncology certified nurse. Her experience prior to joining the Developmental Therapeutics team includes working with intermediate cardiac care patients, as well as hematopoietic stem cell transplant and hematology/oncology patients.
Nancy Moore RN, MSN, is a Clinical Research Nurse on the Developmental Therapeutics Team. She received her Bachelor's degree from Villanova University, PA and her graduate degree from Adelphi University in Long Island NY. She has been practicing in the area of clinical research trials for 20+ years. She is the mother of three and enjoys scrapbooking.
Social Workers
Marie "Elaine" De Benedetto has been our team social worker for over six years. Ms. De Benedetto has worked in the field of oncology social work at the NIH since March of 2000. She serves on the National Cancer Institute's Division of Cancer Treatment and Diagnosis Developmental Therapeutics Clinic General Safety Monitoring Committee. Ms. De Benedetto is bilingual in English and Spanish. She is licensed in the State of Maryland as a Clinical-Certified Social Worker. She received her Bachelors of Science Degree in Social Work from George Mason University and her Masters of Social Work Degree from The Catholic University of America in Washington, D.C. Ms. De Benedetto conducts psychosocial screenings and assessments, hospice referrals, resource referrals and discharge planning.
Referral Coordinators
Denesha Simmons is one of our Clinical Research Coordinators for the Early Phase Developmental Therapeutics Team at NCI. Denesha graduated with a Bachelor of Arts in Human Relations degree from Trinity Washington University in Washington, DC. Denesha has 12+ years of experience in patient care support services. She has been at the NIH for eight years providing administrative support to the inpatient care units of the NIH Clinical Center and Patient Care Coordinator for the NCI Lymphoma Team. She enjoys helping others and traveling.